Success for many traders remains an elusive dream, and whilst the trading process itself is relatively simple and straightforward, the markets themselves are most certainly not. Indeed of the four principle markets, forex is the most complex of all, and yet is promoted as one that could be your own personal ATM machine. Nothing could be further from the truth, which is why many aspiring traders ultimately fail and either give up, or move on. This is a great shame, as it's not their fault, and is simply because no-one has ever explained how the markets, and in particular, the forex markets, really work.
If this sounds familiar, then this book is for you.
The forex market is far from simple, and the tools and techniques you will need to survive and prosper are varied. Many budding traders approach the world of foreign exchange in a one dimensional way, either in adopting one single analytical technique, or by assuming that this market works in isolation to all others. Both are equally dangerous.
The forex market sits at the heart of the financial world. After all, every decision by every speculator, trader or investor is about one thing, and one thing only – money. The FX market embraces every aspect of risk and return in financial terms, which is then overlain with the political and central bank manipulation, all part and parcel of this world.
To succeed as a forex trader, you need to equip yourself with the tools, the knowledge and the techniques to take on the immense forces ranged against you. Approach the forex market with a pea shooter and you will simply become another casualty. Arm yourself with this book, and you will then enter the forex trading world, fully mobilised with the appropriate weapons, of which knowledge and insight are the most powerful.
And don't forget as the late great Jesse Livermore once said:
"It [the market] is designed to fool most of the people, most of the time"
And coming soon on Amazon………….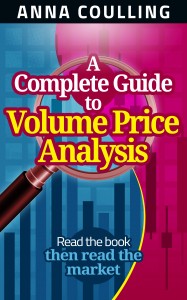 This is the book I have been meaning to write for many years. Finally, I have found the time to do just that!
Volume has been the cornerstone on which my own trading career has been built. It was where I started, and I consider myself fortunate to have done so. Why? Because volume and price are the ONLY leading indicators of future market activity. Many traders never discover their awesome power until it's too late, relying on lagging indicators, which………lag the market. Now finally it's here. In the book you will discover the unique approach that is VPA, or Volume Price Analysis.
Price on it's own is just that – a price. Volume on it's own is just that – volume. But combine them together, and just like adding saltpetre, charcoal and sulphur, they become an explosive mixture. Your charts will quite literally EXPLODE into life. Suddenly you will have the insight to read the next market move, before it happens. Now, with VPA your trading will become stress free and enjoyable. Why? Because your trading decisions will be based on logic and common sense. The insiders simply CANNOT hide market activity from view. All you need to do is interpret the volume price relationship – then simply follow them. AND YES – even in the spot forex market!!
Discover how in the book, and your own success will follow.